A Brand Board is totally different than a Style Guide.
A Brand Board is a quick and easy reference to find your color codes, see your fonts, and quickly view all of your logos at once. Any client can benefit from having a brand board – as this can be given to web designers, printers, and other members of your business – as a reference guide.
A Style Guide is more in-depth than a Brand Board, it includes instructions on how to use and not use your brand elements. It includes things such as how much spacing should be around the logo, what colors should and shouldn't be used in your brand, what background colors should be used behind your logo, and so on. A style guide is not as simple as a Brand Board, it is essentially brand guidelines to follow – which can get pretty complex. A brand board does not include detailed instructions.
Not all brand boards are created equal, some can be more involved than others… some might include images, patterns, icons, and other graphics that are part of your "brand". In general, you can always find logo designs, fonts, and colors.
What items can be included on our brand board…
1. What is your Primary / Main Logo?

The main logo is the main symbol or representation of your company, business, or personal brand. Logos are designed to set you apart from your competitors and other businesses. This design is carried throughout all your branding and marketing… and is used on your website, stationery, social marketing, etc.
2. What is a Secondary Logo or Logo Variation?

The secondary logo is another version of your main logo, with some slight differences. It could be in the orientation vertical vs. horizontal, a shape, icon, or border could be added to it, the colors could be slightly different, etc…
It's a great idea to have a secondary logo, or logo variation so that you can change things up and a little flare, yet still have a cohesive and interesting brand. If your main logo is more horizontally orientated, a circle or vertical-style secondary logo could be used in a space where a horizontal logo might not work. Think of it as a backup. 🙂
3. What is a Submark Logo?

The submark is yet another element, generally pulled from your main logo. In most cases, it's a smaller less detailed version of your primary logo – possibly a set of initials, a monogram, an icon, etc. If your business has a longer name, submarks are super helpful since they provide a simple and shorter version of your main design and also fit smaller spaces.
Submarks can make a great favicon, social media profile, placed in your website footer, or backsides of business cards. Many photographers or even boutiques like to use the smaller submark logos as watermarks for images since they are generally circular in shape and fit nicely in the corners of photographs. A logo submark allows for a more playful way to incorporate your branding into your designs.
4. Colour Palette

The main color palette usually consisted of about 5 coordinating colors. These are the colors that make up and strengthen your overall brand identity. Hex color codes are also provided so that you can easily color match throughout other branding and marketing materials.
To add a romantic chic flare, a feminine brand may choose pastel colors. A corporate agency might choose a palette of deeper and dark shades to show boldness, strength, and power.
5. Brand Coordinating Fonts

To create a stunning visual identity for your overall brand, coordinating fonts are chosen. Just like the color palette fonts play an important role and can break the mood, your brand is trying to convey.
Script fonts are often used for a more feminine brand, thick sans serifs signify a modern clean brand, and serif fonts add a more traditional touch or even a bit of shabby chicness.
Our Brand Board: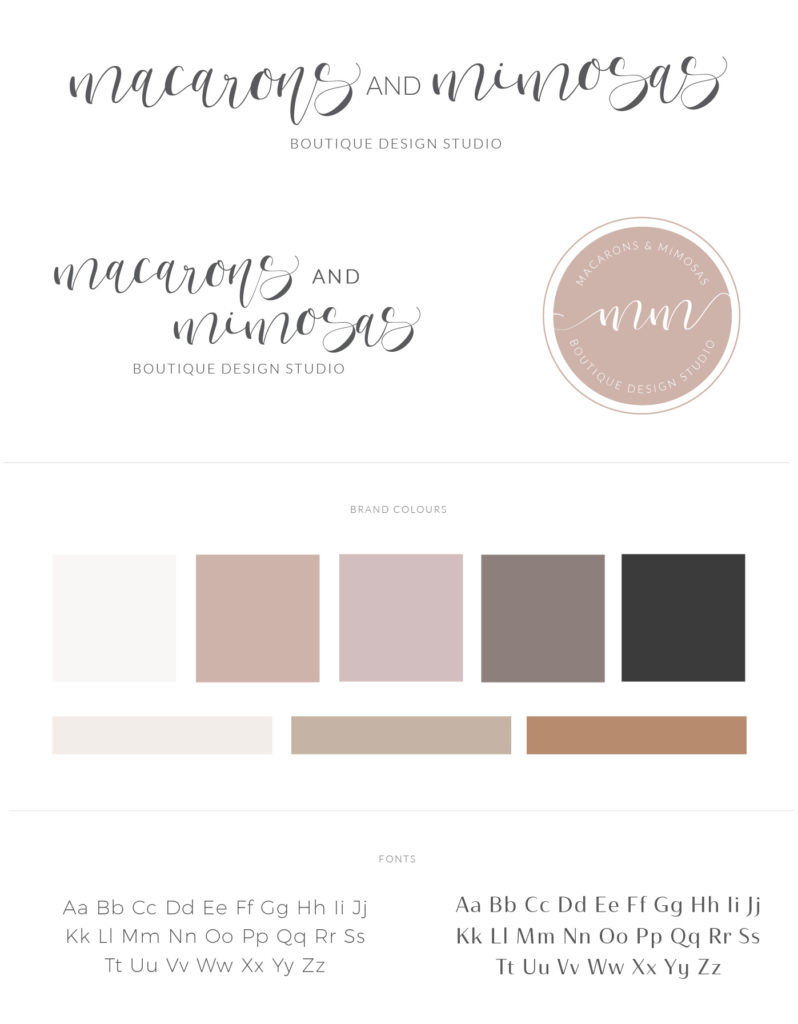 Some brand boards could also include things like:
5. Patterns
Patterns add a great additional touch to your brand. Patterns can be used for marketing materials, such as business cards, and letterheads, they can also be carried throughout your social media in background graphics, blog post images, and social media banners. Patterns are just another great way to strengthen and expand your brand.
5. Inspirational Images
Visual images add an additional touch to your board – showcasing some photos that represent how the color palette came to be made.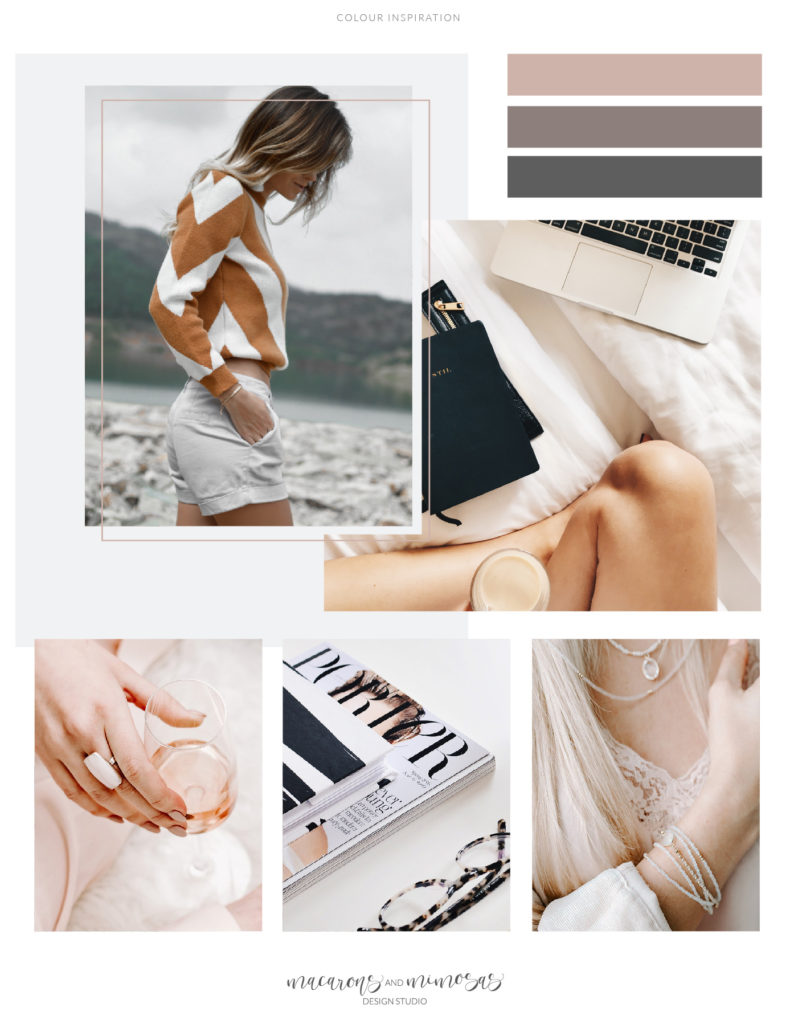 Brand boards are a great quick reference that contains the core essentials of your brand identity – helping to guide the visual decisions you will make with your brand moving forward. For this, we recommend having one.
There is so much more that can be added to a style board, these are just the basic elements. You can also add coordinating brand elements such as color inspiration photos, patterns, social icons, and more… There is no wrong way to create a brand board or brand style sheets.